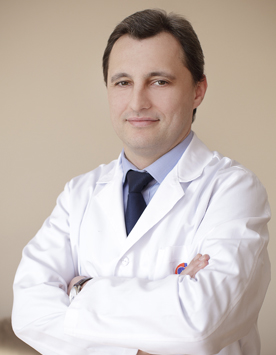 Head of department
KRAVCHUK Borys Bogdanovych
PhD, cardiac surgeon of the highest qualification category
---
Borys Bogdanovych works at the Amosov Institute since 1998.

In 2000-2001, he studied at the International Heart School (Italy), received a Master's Degree in Cardiosurgery and Cardiology. He trained in leading clinics in Italy, Germany and Czech Republic.

In 2007, he successfully completed the European Certification Exam (EHRA CP exam – special competency in cardiac pacing, implanting cardioverter-deffibrilators and cardiac resynchronization therapy) of the European Society of Arrhythmologists. Since 2012, he is a certified specialist of the European Society of Arrhythmologists.

In 2015, he defended his Ph.D. dissertation on the topic "Biventricular resynchronization pacing for the Treatment of Heart Failure".
Staff of the department:
cardiac surgeon Petkanych Myroslav Myroslavovych;

cardiac surgeon Perepeka Evgen Olexandrovych;

cardiac surgeon, Ph.D. Paratsiy Oleksiy Zinovievych;

medical engineer, Ph.D. Sychyk Maryna Mykhailivna.
The laboratory of department is equipped with a digital angiographic complex Infinix CC-I (Toshiba, Japan), a combined electrophysiological and hemodynamic station LabSystem Pro (Bard, USA), a three-dimensional electroanatomic heart mapping system Ensite Velosity NavX (St. Jude medical, USA) and Toshiba echocardiography for transthoracic, transdermal and intracoronary diagnostics.

Main areas of work of the department:
invasive electrophysiological study;

catheter radiofrequency ablation of supraventricular arrhythmias (WPW syndrome, AV nodal re-entry tachycardia, atrial ectopic tachycardia, etc.);

catheter radiofrequency ablation of ventricular tachycardia;

radiofrequency catheter ablation – pulmonary vein isolation using three-dimensional electro-anatomical mapping navigation system – EnSiteVelosity;

combined treatment of arrhythmias, coronary heart disease and congenital heart disease;

implantation of cardiac resynchronization pacemakers and cardioverter defibrillators for the treatment of congestive heart failure;

implantation of cardiac pacemakers for the treatment of bradyarrhythmias;

implantation cardioverter defibrillators for the treatment of life-threatening arrhythmias;

Scheduled follow-ups for cardiac pacemakers, implanted cardiovertor defibrillators of the following manufacturers: Abbott (St. Jude Medical), Biotronik, Boston Scientific, Medtronic, Sorin, Vitatron;

consultations of patients for pharmocologic treatment of arrhythmias.




Contacts:


address: 03680, Kyiv, Amosov street, 6, Building 2




Tel .: (044) 249-80-99




email: officeamosov@gmail.com