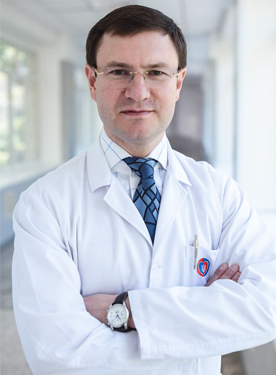 Head of Department
Kostyantyn Rudenko
M.D., Ph.D.
Tel.: +38 044 275 40 22
E-mail: kostyantyn.rudenko@gmail.com
MAIN ARES OF WORK:
the treatment of different forms of hypertrophic cardiomyopathy depending on the stage of the disease: drug therapy, implanting dualchamber cardiac pacemakers, transcoronary alcohol septal ablation, surgical treatment with the use of artificial circulation;
the differential diagnosis and treatment of dilated cardiomyopathy: surgical treatment of cardiac arrhythmias, implanting cardiac pacemakers with CRT function, applying cascade plasmapheresis in cases of infectious etiology of disease, surgical treatment (coronary artery bypass grafting, the plastic repair of mitral and tricuspid valves in cases of functional mitral and tricuspid regurgitation), applying shock wave therapy when surgical treatment is impossible for patients with ischemic cardiomyopathy.
The training in areas of its activity is conducted by the department.