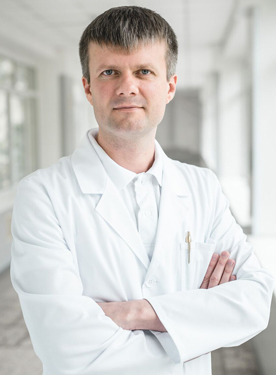 Head of department
Ditkivskyy Igor Oleksandrovych
---
Works in the Institute since 2004.
The department is the leader in percutaneous interventions for congenital and acquired heart disease in Ukraine. It provides percutaneous treatment for the following lesions:
Percutaneous patent ductus arteriosus closure

Percutaneous atrial septal defect closure

Percutaneous ventricular septal defect closure

Angioplasty and/or Coarctation of aorta stenting

Valvuloplasty, angioplasty, and/or pulmonary artery stenting

Endovascular thoracic and abdominal aorta repair (TEVAR, EVAR)

Balloon valvuloplasty for the valvar stenosis

Percutaneous closure of left atrial appendage

Atrioseptostomy (Rashkind procedure)

Transcatheter aortic valve replacement (TAVR)

Ets.
Annually more than 100 diagnostic and more than 350 interventional procedures utilizing different heart implants (occluders, coils, stents) are performed. The department is supplied with the modern equipment: angiograph, ECHO –machines with transoesophageal and inrtacardiac probes allowing  double controlled (ECHO and fluoro) guidance during procedure. 
Our doctors had fellowship in the leading institutions of Poland, Germany, Spain, United States of America, Austria and Slovakia. The employers of the department regularly hold outclinic master-class in regional hospitals of Ukraine   and organizing a conferences with international speaker participation.
More about department you can find on our website: occluder.com.ua