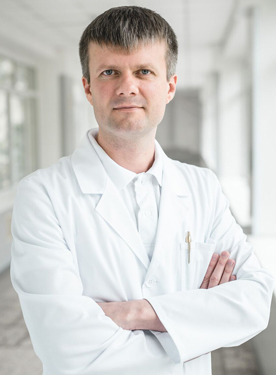 Head of department
Ditkivskyy Igor
---
Our department is the leading Ukrainian center of endovascular treatment of congenital and structural heart disease.
We perform:
Endovascular closure of patent ductus arteriosus

Endovascular closure of atrial septal defects

Endovascular closure of ventricular septal defects

Coarctation of the aorta: angioplasty and stenting

Pulmonary artery stenosis: angioplasty and stenting

TEVAR and EVAR (endovascular aortic repair)

Balloon valvuloplasty of heart valve stenoses

Atrioseptostomy (Rashkind procedure)

Left atrial appendage closure in atrial fibrillation

TAVI (Transcatheter Aortic Valve Implantation)

And many other procedures
Over 450 endovascular interventions and over 100 diagnostic catheterizations are performed annually at our department. The department is equipped with up-to-date machinery, such as a biplane angiography system and several ultrasound machines with transesophageal and intracardiac transducers, which enables us to perform interventions using double (X-ray and echocardiography) visualization.
Our doctors participated in training programs in hospitals of Poland, Slovakia, Germany, Austria, USA and Spain. We give master classes for our colleagues in Ukrainian regional hospitals and invite leading foreign specialists to conferences held in our institute.
More information about the department can be found at http://occluder.com.ua/