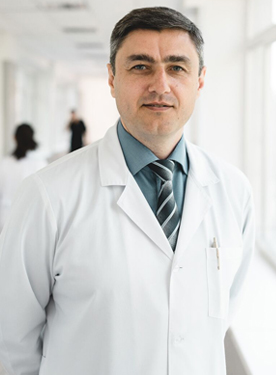 Head of Department
Truba Yaroslav Petrovich
Телефон: +380 44 275 42 33
E-mail: truba-mena@rambler.ru
---
The department of surgical treatment of congenital heart diseases in newborns and young children is one of the leading Ukrainian centers providing emergency treatment and highly specialized cardiosurgical care for patients with congenital heart defects. The priority of the department is the surgical management of the most complex congenital heart defects in newborns. Annually the department achieves about 700 operations on congenital heart diseases in children of different ages, among them about 200 surgical interventions are performed in toddlers under 1-year-old.
Surgeons of the department employ all the modern surgical methods and techniques used in pediatric cardio surgery.
The greatest breakthrough in the national cardiac surgery is the development and successfully implementation of surgical treatment of patients with hypoplastic left heart syndrome. In 2010, for the first time in Ukraine our specialists successfully performed a correction with this pathology in a newborn. Up to this day, the Amosov NICS is the only center in Ukraine that helps children with this pathology.
Surgical treatment of patients with Ebstein's anomaly is the prerogative of our department. An effective system of diagnosis and treatment of this pathology, which is recognized by the worldwide cardiosurgical community, has been developed, this includes reconstructive valve-conserving operations that have better prognosis in remote postoperative period. The experience of our clinic is one of the largest in the world – more than 380 operated patients.
Specialists of our department are among the first in the world to operate patients with congenital heart diseases followed with 100% pulmonary hypertension (by means of a specially designed "patch with a valve»). Up till now, more than 40 children with this pathology have been operated.
In 2015, for the first time in Ukraine, the surgeons of our department performed a hybrid closure of the interventricular septal defect on the working heart without the use of the artificial circulation machine. Up to now, 7 patients were operated by these technique. Hybrid operation consists in the placement of a special defect-closuring device named occluder, through a miniature puncture in the right ventricle.
Specialists of our department constantly improve their professional skills and abilities, they are trained in the leading clinics of Italy, England, France, Holland, China and the USA.
The intensive care unit for neonates and younger children is equipped with up-to-date machinery. Up to 12 children can be treated simultaneously in the ICU. The staff gained experience together with foreign colleagues from the USA, Germany, Great Britain and Poland. The ICU is using newest methods of treatment for various age groups, from neonatal age to adults with congenital heart disease.
The ICU for neonates and younger children provides preparation for and anesthesiological support during heart surgery, endovascular interventional and diagnostic procedures.
The ICU uses high-tech methods for diagnostics and treatment, such as neonatal bronchoscopy, high frequency ventilation, extracorporeal membrane oxygenation. Our doctors and nurses look after their little patients with professionalism, empathy and love.