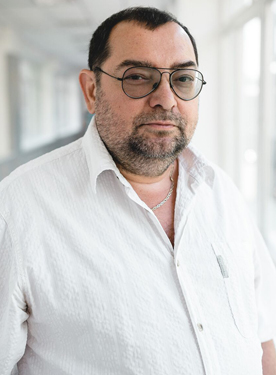 Head of Department 
Beshlyagha Vyacheslav Mikhailovich
Doctor of Functional Diagnostics of the Highest Category, Candidate of Medical Sciences.
---
He has been working at the institute since 1987. He is the leader in ultrasound diagnostics of congenital and acquired heart defects among specialists of Ukraine in the field of echocardiography. He personally performed more than 140,000 Echocardiographic examinations, has the greatest practical experience in diagnosing patients with heart disease.
Member of Ukrainian Association of Ultrasound Diagnostics Specialists in Medicine and Cardiovascular Surgeons of Ukraine participant in Ukrainian and international congresses. It is widely known for numerous reports, lectures and publications (approximately 430 publications). Well-known among the experts of the association as a teacher. He trained doctors of Echocardiography diagnostics practically for all regional cardiac surgery centers of Ukraine. Since 1990, he has been the founder and director of courses on Echocardiography, based on the department of ultrasound diagnostics of the Institute, which trained more than 380 Ukrainian doctors.
 The department of ultrasound diagnostics of the Institute is the largest scientific and practical center of Ukraine with echocardiography (volume of performed researches about 45000 per year).
Equipped with a modern ultrasound diagnostic equipment of the extra class "Toshiba"- Artida and "Philips"- iE-33 with three-dimensional image and trance esophageal probes.
Main directions of scientific and practical work:
Diagnostics of complex critical heart defects in infants;

Preoperative selection of patients with acquired and congenital heart defects on traditional and minimally invasive methods of surgical treatment.

Dilation cardiomyopathy – the selection of patients for resynchronization therapy.

Hypertrophic cardiomyopathy – the definition of treatment tactics, based on the anatomical features of the pathology.

Ischemic heart disease – determining the viability of the myocardium.

Diagnosis of infective endocarditis.

Diagnosis of tumors of the heart.
The use of the latest techniques allows 80% of patients to conduct preoperative screening only based on echocardiography, without catheterization and angiocardiography. Precise preoperative diagnostics of complex congenital heart defects (left and right heart hypoplastic syndromes, transposition of great vessels, total abnormal pulmonary vein drainage, pulmonary artery atresia, truncus arteriosus, etc.) allowed the introduction of surgical treatment of infants with these defects in clinical practice.