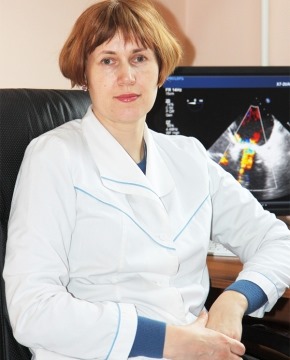 Head of Department 
Mazur Oleksandra Anatoliivna

M.D., Ph.D., Specialist in Cardiology and Ultrasound Diagnostics
Working at the Institute since 1996
+380 44 275 64 55
---
Dr. Mazur is a member of European Society of Cardiology and Association of Cardiovascular Surgeons of Ukraine, participant of many Ukrainian and international congresses and meetings. She has completed training programs in top hospitals of Austria, Poland, Slovakia and China.
The department of ultrasound diagnostics of the Institute is the largest clinical research center for echocardiography in Ukraine, performing about 42000 examinations per year. Among these numbers are circa 800 transesophageal examinations for differential diagnostics in hard-to-diagnose cases. There are 8 doctors (specializing in cardiology and ultrasound diagnostics) in the department, 4 of them have completed their Ph.D.
The department is equipped with modern ultrasound diagnostic systems of expert class "Toshiba"-Artida and "Philips"-iE-33 with 3D-imaging and transesophageal transducers.
In addition to standard imaging of heart chambers and valves (M-mode, B-mode), we are also doing the assessment of intracardiac blood flow using pulsed-wave and continious-wave doppler, color-flow mapping; using the quantitative method with tissue doppler; assessing the strain and strain rate with speckle-tracking echocardiography. Both 2D and 3D reconstructions allow us to examine ventricular myocardial function in patients with coronary heart disease or various cardiomyopathies.
Main areas of our work are:
diagnostics of complex critical heart defects in infants;

preoperative selection of patients with acquired and congenital heart defects for traditional or minimally invasive surgery;

selection of patients with dilative cardiomyopathy for resynchronization therapy;

choosing the right treatment for hypertrophic cardiomyopathy, according to its anatomy;

assessing myocardial viability in patients with coronary heart disease (stress echo, speckle-tracking);

diagnostics of infective endocarditis;

diagnostics of heart tumors;
The usage of the latest technologies allows 80% of our surgical patients to be elected for surgery according to echocardiography results alone, not requiring cardiac catheterization and angiography. Our precise diagnostics of complex congenital heart defects (such as hypoplastic left and right heart syndromes, transposition of great vessels, total abnormal pulmonary venous return, pulmonary artery atresia, truncus arteriosus, etc.) has led to the introduction of surgical treatment in infants with these defects into wide clinical practice.