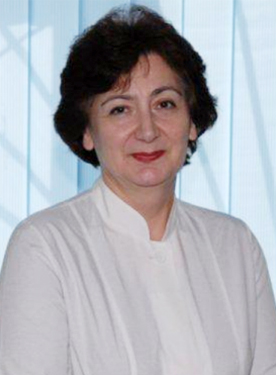 Chief of the department
Liudmyla DZAKHOIEVA
M.D., Ph.D., leading researcher, Honored Doctor of Ukraine.
---
L.Dzakhoieva is working in the Institute from 1977; she is an author of more than 110 publications and 24 inventions, including noninvasive determination of pressure gradient on the aortic valve, ECG diagnosis of thrombosed aneurysm of the left ventricle, atherosclerotic lesion of left main coronary artery and many others.
Dzakhoieva's patent for invention "Method of ECG diagnosis of myocardial «bridge» over LAD»  won the award «The best invention of 2012». Department performed approximately 40,000 examinations per year, including ECG and polycardiography, Holter monitoring of ECG and blood pressure, treadmill test.
The department has a large experience in diagnostics of various heart pathologies, interpretation of ECG before and after cardiac surgery.  The telemedicine unit is installed on the department's premises for remote control of patient's ECG.
Department's staff is consulting many medical institutions of Ukraine.