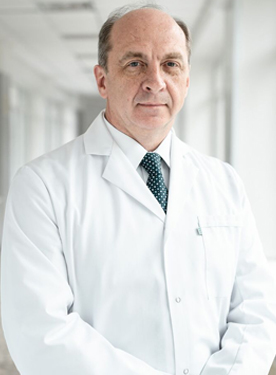 Head of the department
Vitovskyi Rostyslav Myroslavovych
MD, PhD, senior cardiac surgeon of the highest category of department of multiple organ failure and obstetric cardiosurgery N.M. Amosov National Institute of Cardio-Vascular surgery of the Academy of Medical Sciences of Ukraine, рrofessor of the Department of Cardiac Surgery of P. L. Shupik National Medical Academy of Postgraduate Education, laureate of the prize named of the N.M. Amosova.
The theme of his dissertation: "Surgical treatment of mitral stenosis complicated by calcification of the valve" (PhD, 1990).
Theme of his doctors dissertation:"Primary tumors of the heart (problem diagnosis and surgical treatment" (2003).
Author of 234 scientific papers.
Professional experience: 33 years.
---
Of the department of surgical treatment of multiple organ pathology and obstetric cardiac surgery aims to provide round-the-clock routine and emergency patients with acquired heart defects, tumors of the heart, coronary heart disease, and other surgical diseases of the cardiovascular system, including pregnant women.
 The department is an expert center and has the largest experience in diagnostics and surgical treatment of tumors in Ukraine. During the period from 1.01.1969 to 01.01.2018, 918 patients aged 3 to 78 years with heart tumors were operated at the institute. Expanding the scope of interventions alongside improving diagnosis and timely execution of operations and development of new methods and implementation of integrated approaches to the treatment of patients with tumors of the heart and mediastinum are extremely important areas of medical diagnostic work.
Surgical treatment of valve pathology is one of the main parts of the medical work of the department staff. During each year more than 200 interventions are performed on the correction of mitral and aortic heart defects with a postoperative lethality of 0.6%.
Proceeding from the world experience, most of the patients can perform reconstructive operations on the heart valves. It positively affects both the quality of life and the cost of intervention. Therefore, the wide introduction of reconstructive interventions in valve pathology is one of the priority directions.

Many patients have a combination of valvular or oncological pathology with coronary heart disease, which requires simultaneous surgery. Coronary artery bypass grafting, which is performed by the specialists of the department, in more than 90% of cases is performed on the "working" heart (of pump), not on the "stopped" (on pump). The benefits of such a strategy are to improve the tolerability of intervention, reduce its traumatism and cost.
A large group of patients operated for such congenital heart defects, such as aortic and subaortic stenosis, bicuspid aortic valve, etc., are not neglected. Providing effective surgical care to this group of patients is an integral part of the medical work of the department staff.